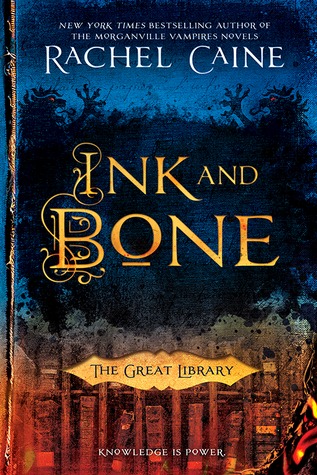 Ink and Bone by Rachel Caine is the first book in The Great Library series. It can best be categorized as a fantasy series with subgenres of Young Adult and Steampunk being appropriate as well.
There is decent, solid world building in this first book in the series. It is set in our world but with history rewritten. The Great Library of Alexandria survived and now rules the world in essence. As the novel opens Jess, the protagonist, is ten years old and runs illegal original, physical books on behalf of his father, a highly successful original book smuggler. Smuggling books is not only dangerous but carries a death sentence if caught in possession of rare and valuable manuscripts. The Great Library of Alexandria controls books and the knowledge they contain everywhere. There isn't a country or person on the planet that doesn't revere the Library or fear them on some level. There is organized resistance, called The Burners, but they are ruthlessly stamped out when they are found.
Around age twenty, Jess is accepted into the Library's school program and off he goes with others from around the world to Alexandria. The events in Alexandria will change the future of Jess's life and he will discover that the life lessons he learned running books on the back streets of London will serve him well. He will be tested academically, physically, and emotionally. Can he survive his training and gain a permanent position at the Library?
There is a complex backstory, with solid world building as the story unfolds. The characters are well written and are not shallow. It was engrossing and hard to put down to be honest. This was my first ever novel with any steampunk elements and I truly enjoyed them. I have every intention of ordering the next books in the series.
Five stars out of five stars for being engrossing and engaging. The world building and characters were excellent and deep. This was not a shallow, superficial Young Adult book and that was a delightful discovery.