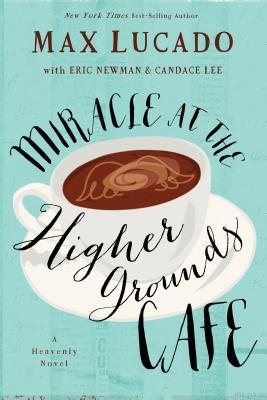 Miracle at the Higher Grounds Café by Max Lucado was a Net Galley read. It was published by Thomas Nelson on February 1, 2015. It falls in the category of Christian fiction but honestly, I think that's a mislabel. I think more properly it falls in the category of religious fiction.
Chelsea Chambers has returned to her hometown to reopen the family business and test the newfound waters of separation after her NFL husband was publically exposed for infidelity. Chelsea is one of those characters you can recognize parts of yourself in without actually trying. Chelsea doesn't have a deep and abiding faith in God to rely on, but she does have a broken heart, a huge tax debt she inherited, and a business she doesn't know if she can run successfully. Enter Manny, Chelsea's guardian angel but he doesn't descend from heaven wings evident, halo astride his head. Instead, Manny is disguised as a klutzy human who goes to work for Chelsea. What unfolds is a beautifully written story about God's love and letting go of the past to embrace the present and the future.
Yes, this is religious fiction that is squarely Christian in focus but the message of the book is pretty universal. Substitute the rare mention of Jesus with the deity of your faith and what you are left with is a book that will make you cry and remind you that even in bad times, there are good times ahead. I would have no qualms about recommending the book to religious and non-religious alike.
Max Lucado is a new to me author. I admit I'm always leery about picking up fiction the is religious in nature. Either the books hit all the right notes and resonate well or they turn into preachy, dreary, why am I reading this affairs. Lucado's writing is definitely not in the later category. His voice is fresh and uplifting without the preachy, in your face undertone. I would pick up another of his books in a heartbeat.
Five stars out of five stars for being a very pleasant surprise and bringing me to tears.