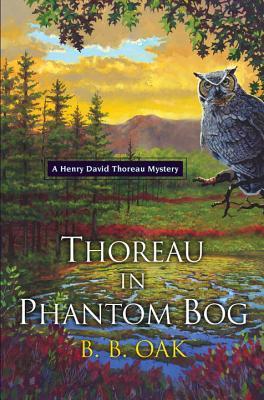 We all remember reading Henry David Thoreau in high school where he seemed dry, boring, and unimaginably esoteric. That Henry David Thoreau was not present in Thoreau on Phantom Bog. This amazing third installment of the Henry David Thoreau mystery series by B.B. Oak. which I read courtesy of NetGalley.
Thoreau is a conductor on the Underground Railroad and when other conductors are murdered and a passenger goes missing Thoreau and his friends spring into action. What ensues is a thoroughly engrossing and enjoyable cozy, historical mystery set in a small town somewhere between Boston and Concord. There's a love story, mysteries to be solved, a glimpse into rural New England life after the Revolutionary War and before the Civil War. There the incompetent town constable, the parrot of the tavern owner's new wife, and dying grandmother of the town doctor. Those are just a couple of the very interesting characters that you meet in the book.
The book is extremely well written and enjoyable from the first paragraph. I have already added the first two books to my reading list. I wish when I had been in high school just shy of thirty years ago these books had existed to personalize and humanize Thoreau, I probably would have been more interested in a deeper and more thorough reading of Thoreau.
Easily five stars out of five stars for being well written, entertaining, and captivating. You don't have to be frightened off because the series stars Henry David Thoreau.